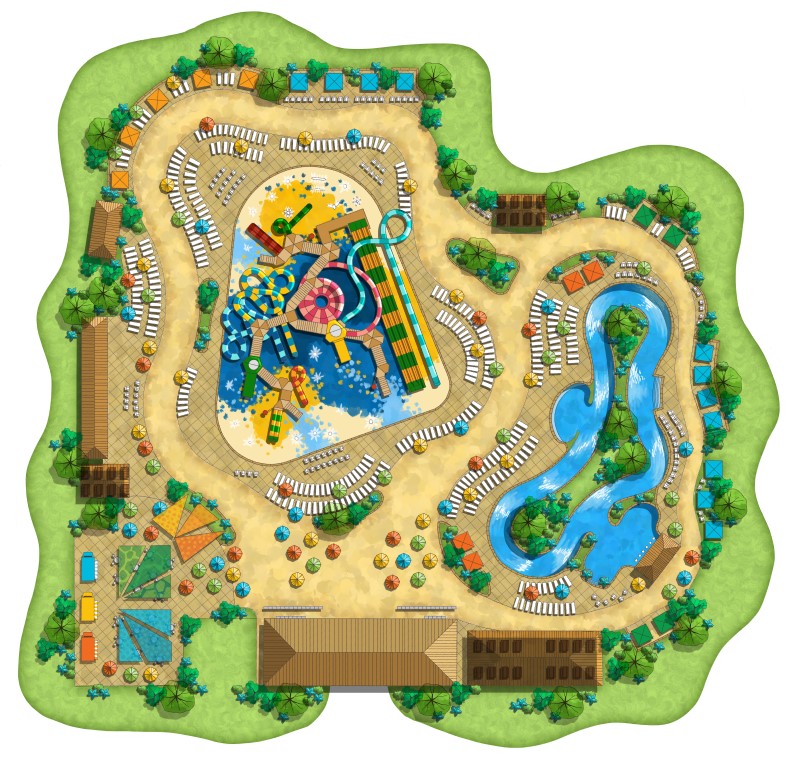 Serengeti Springs at The Hattiesburg Zoo
Located in Southern Mississippi, Serengeti Springs at The Hattiesburg Zoo introduces safari-themed aquatic thrills to an area without any other waterpark attraction. At the heart of the park stands TreeTop Trek, a large play structure and splashpad encompassing over 17,000 square feet. Various 2D and 3D animal elements, welcoming signage, and grassy foliage immerse adventurers into an African landscape. The structure features small kid-friendly slides and activities at its base, along with dozens of spraying water elements across the colorful Life Floor safety surfacing. At the top, five unique bigger slides offer more thrills. Reptile Racers pits individuals in a race to the finish line. The largest slide, Serengeti Swirl, spins adventurers around a vast champagne bowl. Blue Rapid Run and Feather Flight have twists and turns the entire way down. Peacock Plunge maneuvers guests through a tunnel illuminated with aqualucent elements before opening for a lengthy descent. In addition, the park's Polé-Polé River, spanning 436 feet in length, wraps around lush island greenery and connects to a swim-up bar for socializing and refreshments. Lined with cabanas and lounge chairs, the waterpark provides ample space for serenity between splashes.
Services:
For this project, Martin Aquatic provided concept design services and hydraulic, structural, filtration, and chemical system design services.
Location:
Hattiesburg, Mississippi
Year:
2021
Market Sectors: