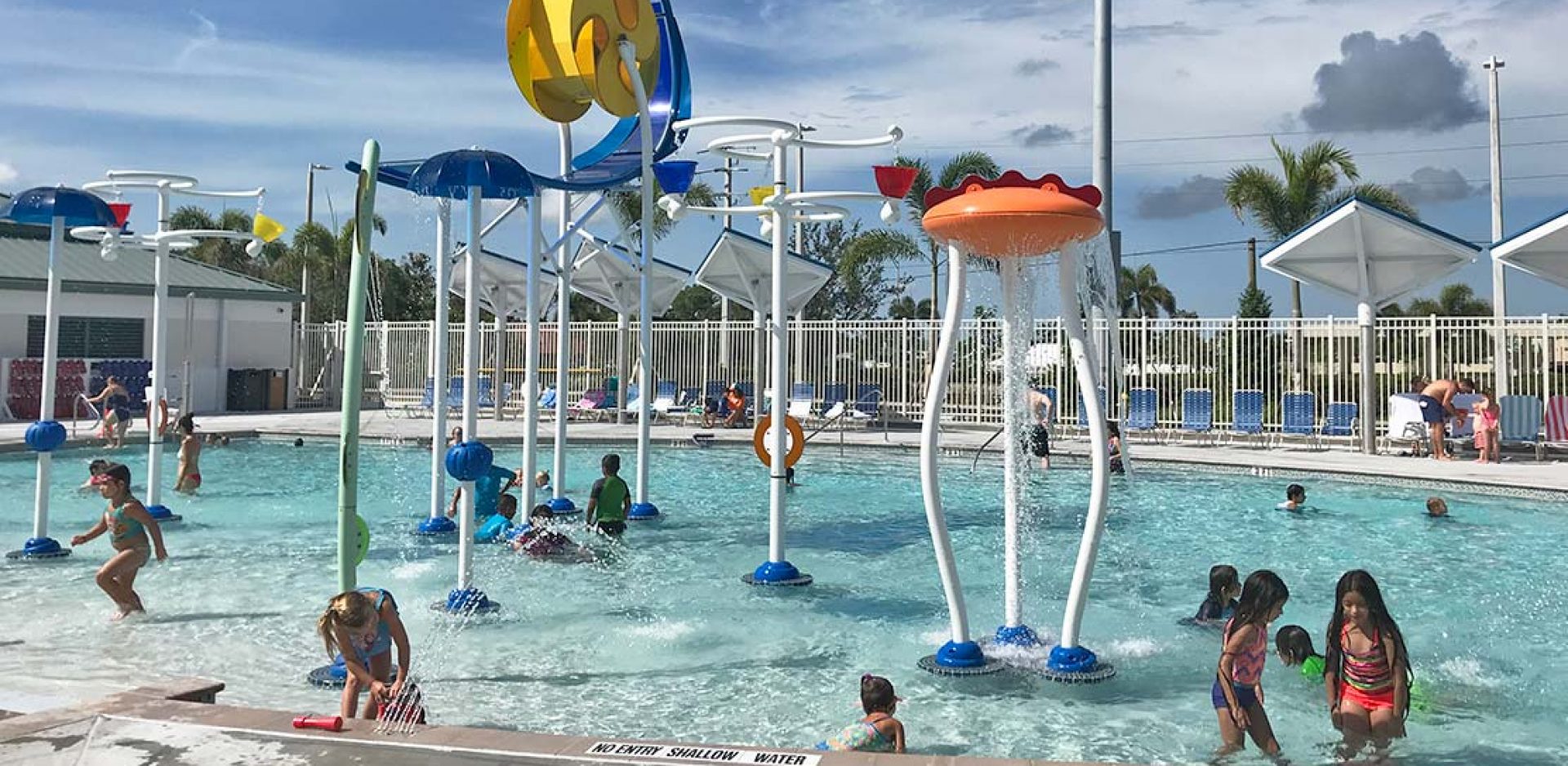 July 9, 2018
New Martin Aquatic Pool Opens in Southwest Florida
Just in time for summer, the Eagle Lakes Community Park Aquatic Facility in Naples, Florida, held a grand opening for its new pool amenities designed by Martin Aquatic. What's more, the center is offering free admission through the entire month of July for residents to enjoy the dual-slide tower, children's wading pool, family activity pool, and competition lap pool.

The leaders of the Collier County Parks and Recreation department in Naples made a big splash during the opening of the new pool amenities at the Eagle Lakes Aquatic Center when they announced that all residents could get in free until August 1st. Now families can enjoy a place to cool off from the summer heat with an amenity for every member of the family.
The eye-grabbing blue and yellow water slides stand 20 feet tall, beckoning guests to take a ride down the snaking tubes. The 32-foot-long enclosed slide sends riders down a quick loop, and the 36-foot-long open flume slide twists and turns before depositing riders at the bottom of the runout.

The 4,000-square-foot family activity pool offers plenty of extra excitement with fun play elements starting at the zero entry. From tall umbrella features that sprinkle water down, all the way to the spinning dump wheel at the top, kids will love splashing around the centerpiece of this aquatic center.
Providing a place for every member of the family, the children's wading pool starts with a zero entry and reaches only nine inches deep. Infants and toddlers will enjoy cooling off in the water, as well as playing with water jets that spray seven delicate streams of water from the deck into the pool.

The lap pool is sized for swim competitions with eight lanes at 25 meters long. As well, it features a sloped floor reaching more than 13 feet deep to allow for diving from either the 1-meter or 3-meter dive stand. This community facility will serve as the home for several local school swim teams and be available for scheduled practices and open swim periods for members of the community. The park will also use the pool for exercise, lessons, and therapy classes.
During the facility's grand opening, community leaders announced a special program that provides swimming skills classes to children from local preschools who will be bused to the aquatic center every day for two weeks. The county government staff in attendance repeated their commitment to drowning prevention education and have applauded this new community amenity as an invaluable resource for the residents of Naples. The center's free admission promotion celebrates National Parks & Recreation Month, held every July as a way to encourage a deeper appreciation for the outdoor environment and physical fitness.
For more information, visit the Eagle Lakes Community Center project page.