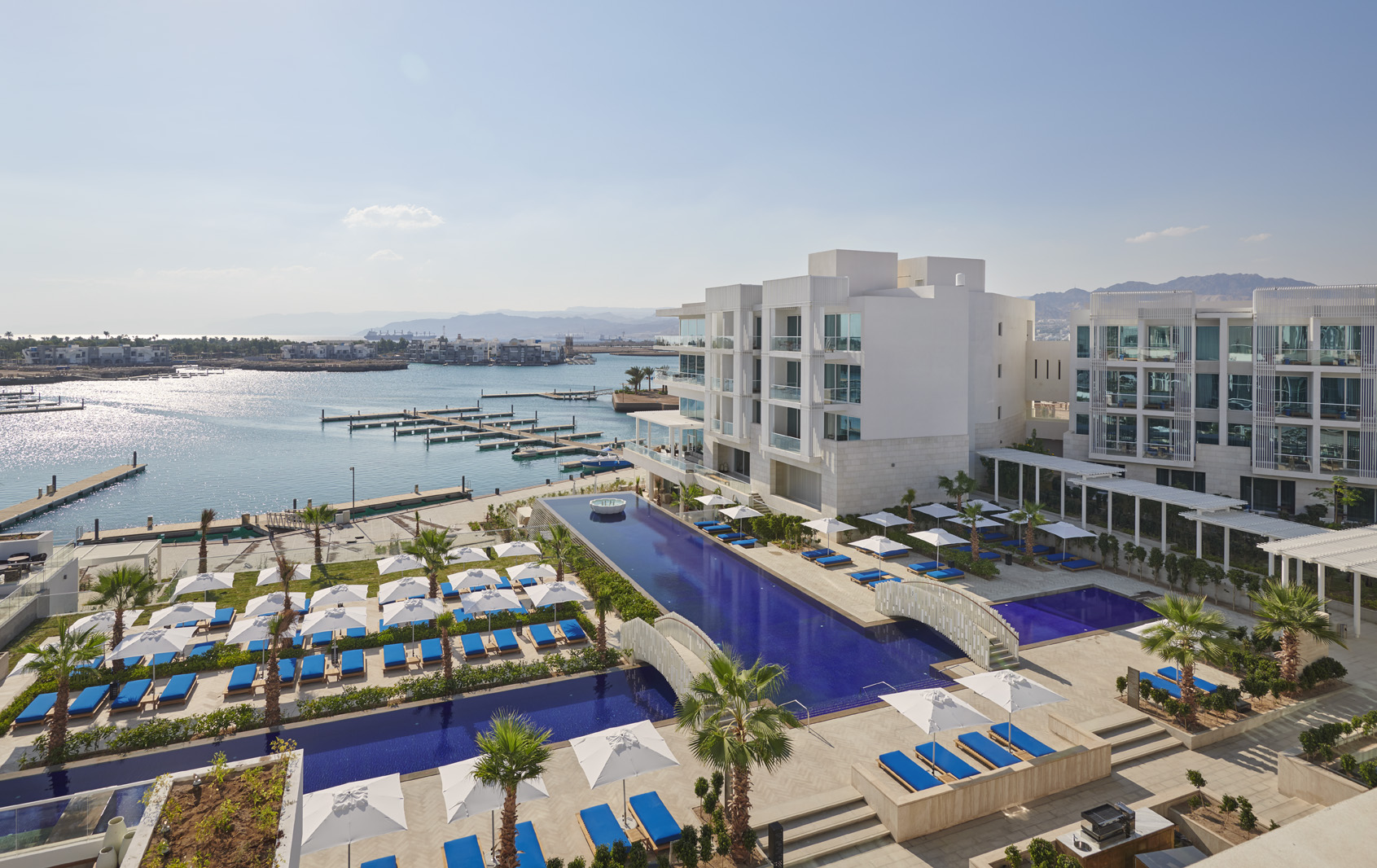 December 5, 2018
Martin Aquatic's Pools and Water Features Highlight Opening of Hyatt Regency Aqaba Ayla Resort
While it is the second branded property in Jordan following Grand Hyatt Amman, this is the first property to offer the luxurious resort-style amenities that travelers have come to expect when staying at a Hyatt resort. The pools, spas, and water features throughout the property have helped create a desert oasis unlike any other.
Since first joining the project in 2012, our team at Martin Aquatic Design & Engineering (Martin Aquatic) has seen the amazing progress of this resort rising from manmade lagoons into a 5-star resort hotel. Every aspect of the Hyatt Regency Aqaba Ayla Resort was designed for its guests to enjoy rest and relaxation from the moment they arrive.

Guests are welcomed into the hotel by a scalloped fountain under the porte cochere featuring animated nozzles shooting streams of water into the upper basin. As they walk further into the open-air lobby, large reflecting pools on either side create a tranquil retreat, and a third pond at the end of the hall cascades down the edge as it drops off to a stunning panorama of the entire main pool area and the marina at the back of the property. The main pool offers infinity edge views of the surrounding marina, while two decorative water features complement the resort's emphasis on water in the country's only coastal city.
At the edge of the Hyatt's property, the spa pool offers guests a secluded retreat, complete with in-water cabanas and sun shelves for lounging into the free-form pool. Landscaped islands with lofty palm trees provide ample shade around the pool, and several sculptural water features add to the peaceful ambiance. On the other side, the hotel's family pool is set up as a two-tiered pool deck with an upper wading pool for smaller children and a larger pool on the ground level, which includes underwater shelves with their own bubbling interactive water features.

Positioned within the new 17 kilometer long development, Ayla, the Hyatt Regency Aqaba Ayla Resort offers its guests every amenity when it comes to a resort, from the 18-hole golf course designed by Greg Norman, to the two separate beach clubs, and the full marina for mega-yachts. Surrounded by the man-made canals that have been excavated to create this pristine lagoon-front development, the Hyatt and its beautiful Martin Aquatic-designed pools help solidify this new vacation destination.