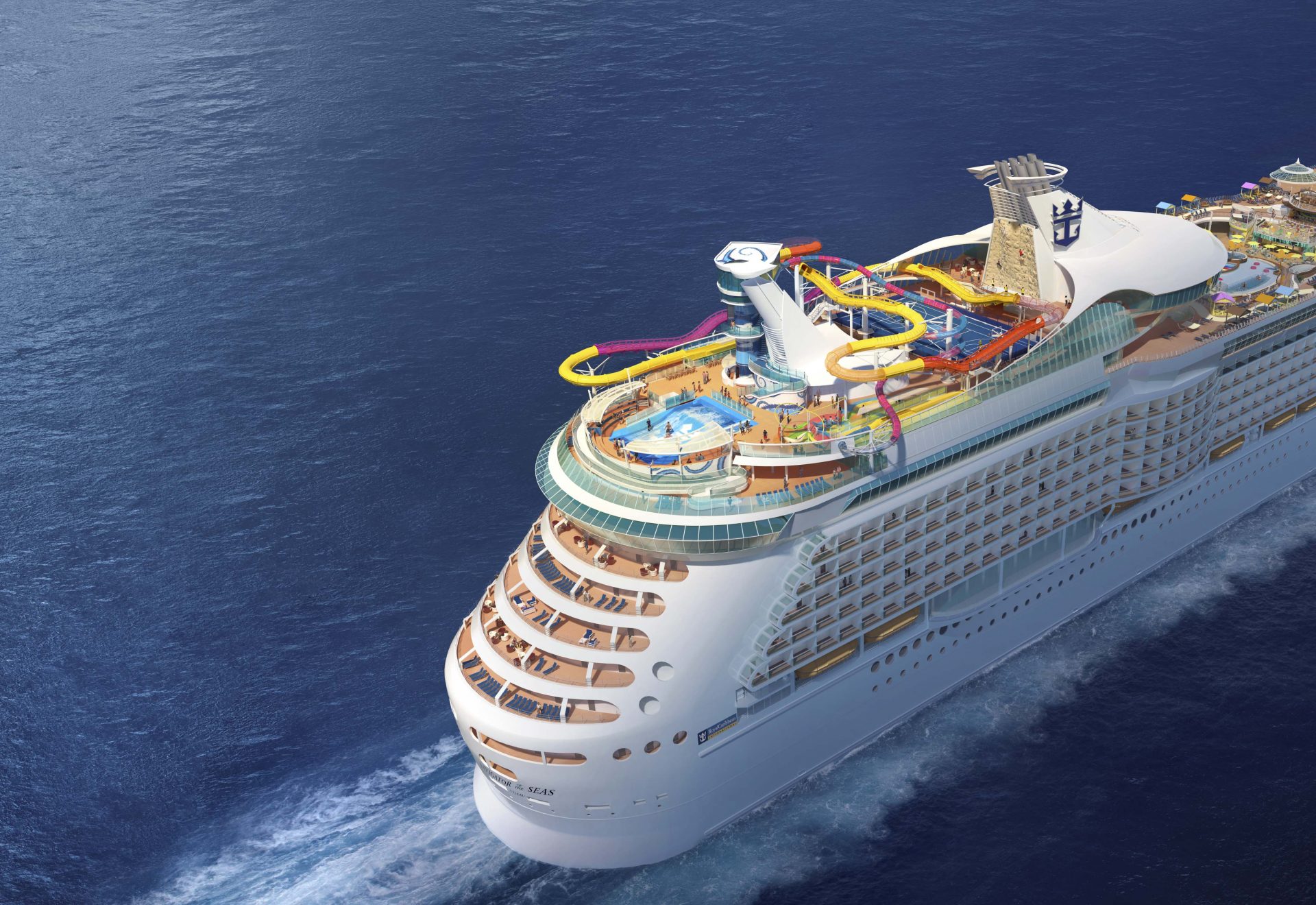 November 7, 2018
Royal Caribbean Unveils First-Ever Aquatic Experiences Onboard Navigator of the Seas
A major upgrade coming to the ship will bring brand-new and record-breaking waterslides to the Royal Caribbean fleet starting in February 2019.
Following a $115 million modernization, Navigator of the Seas will offer some of the first-ever aquatic experiences for Royal Caribbean and the entire cruise industry. Working for Royal Caribbean, Martin Aquatic Design & Engineering (Martin Aquatic) provided creative conceptual design through engineering for the two waterslides that make up Royal Caribbean's trademark "Perfect Storm" slides: The Blaster and Riptide.

The Blaster is the brand's first-ever aquatic coaster, and at 800 feet long, it stands as the longest in the industry. Martin Aquatic designed the waterslide to take a two-person raft up hills, down drops and through hairpin turns using efficient water propulsion jets. The aqua coaster is positioned high over the top deck, with sections of closed and open tube, as well as clear sections of acrylic tube for an exciting view over the ocean.
Its sister slide, Riptide, is a thrilling mat racer sending riders headfirst—the only such waterslide at sea. The enclosed slide goes through similar translucent sections of tube, with one last turn suspended over the side of the ship for an exciting finish.

The newly remodeled pool deck also features an all-new Caribbean ambiance adding more pool area with in-water loungers, round bench seating, shade structures, and sun shelves for shallow wading and conversation spaces. Three new spas are located at different levels of the pool deck offering everyone their own place to relax, while children and toddlers can play in the water at their own splash pads nearby.

The full modernization includes exciting new upgrades throughout the ship to shopping amenities, dining facilities, entertainment, and more. Navigator of the Seas will undergo its transformation in early 2019, with its first cruise slated for February 24 out of Miami. Starting in May of 2019, Navigator will be the first ship to sail to Royal Caribbean's private island Perfect Day at CocoCay, where Martin Aquatic also designed the entire Thrill Waterpark, enormous Splashaway Bay, and epic resort-style pool, Oasis Lagoon.