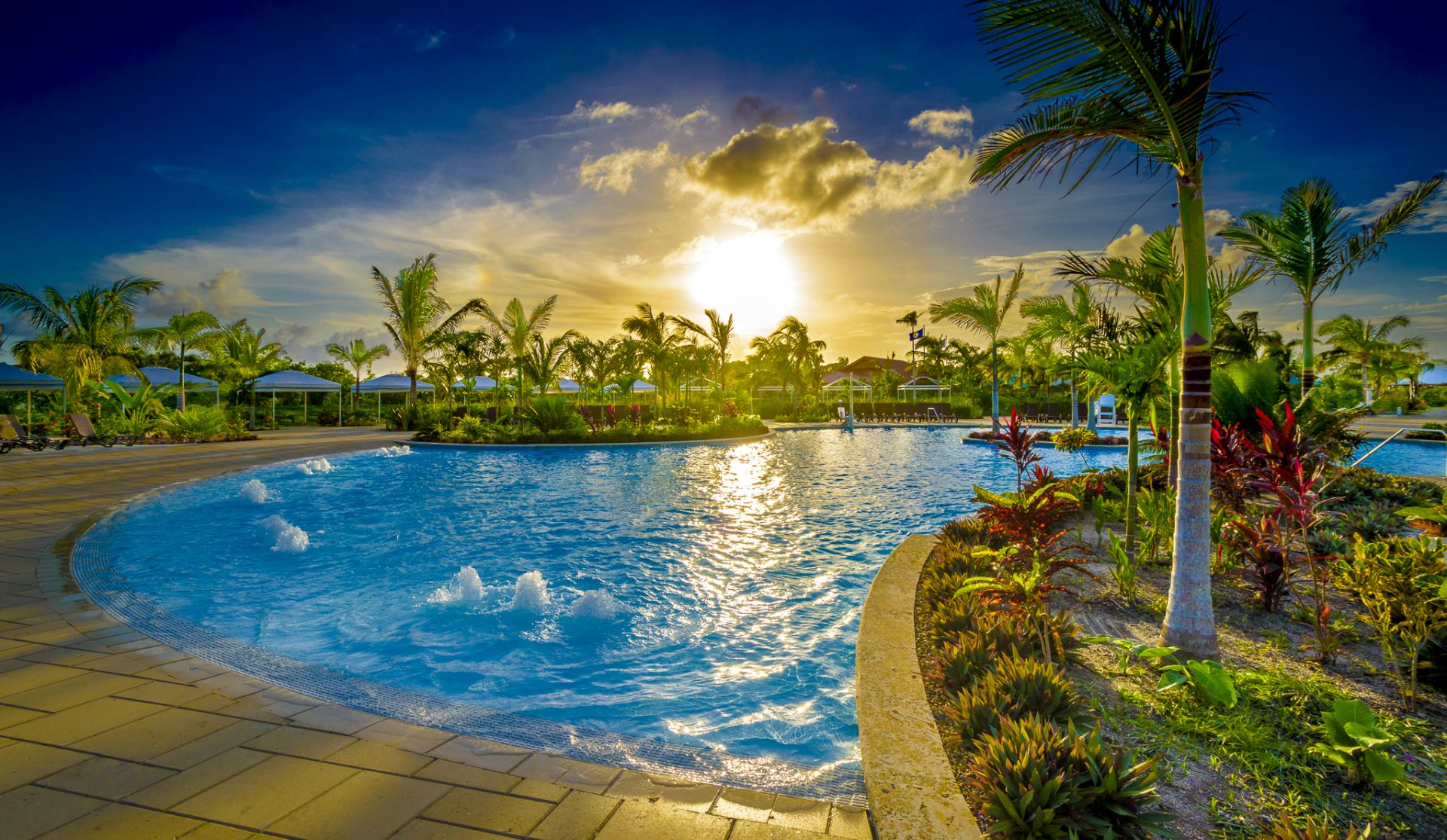 December 5, 2017
30 Projects from 30 Years: Norwegian Cruise Line's Harvest Caye
As we near the end of our blog series looking back at 30 unique projects from Aquatic Design & Engineering's (Martin Aquatic) 30-year history, we're reflecting on the design process for a recent marquee project: the large resort-style pool on Norwegian Cruise Line's private island, Harvest Caye. Martin Aquatic's president and creative director Josh Martin shares how this project took shape (quite literally).
When we first joined the team to bring this massive pool area to Harvest Caye, the initial discussions around the table focused on designing a BIG pool—nearly 20,000 square feet. After all, this would service numerous different ships in Norwegian's fleet, some with passenger counts as high as 4,100. But they also had to think about room for deck chairs and where people could sit outside of the water.

This became one of the great examples of why it's a good idea to have an aquatic engineer on your team who can bring a fresh perspective to a project, and help solve some of those early creative challenges. Our team suggested a new approach to the pool—while we cut the area down to 15,000 square feet to bring in more deck space, we changed the shape of the pool to allow for separate 'zones' for different guests.
On one end, a zero-entry with small bubbling nozzles creates a space for families and small children to wade in shallower water. Then, halfway through, the pool is bisected by an overhead bridge with a cascading waterfall, establishing that section of the pool for more active adults in deeper water. The other end (which I call 'the leisure side') is punctuated by the swim up bar with barstools in the water. One of the creative solutions we suggested was to bring out in-water tables and stools so that more patrons could enjoy their beverages while staying in the pool.

Not only did the pool's shape help their challenges, but some of the engineering and structural elements as well. The project was under a tight deadline; once the island destination was announced and cruises started booking, there was no room for error or project delays. Our team at Martin Aquatic introduced the concept of building a stainless steel pool instead of going with concrete because of the speed of construction. Another challenge was creating plenty of seating options for swimmers inside the pool, but building underwater benches along the pool's edge would have added extra time to the construction schedule. We suggested installing an open gutter drain system, which wouldn't add any construction delays and could allow swimmers to sit on the edge and still be seated in the water.

The end result is an incredible resort-style pool that welcomes Norwegian passengers almost every day to one of the newest island destinations in the Caribbean, and we couldn't be prouder to have been a part of designing it.
For more on Norwegian's Harvest Caye, check out the project's page here.