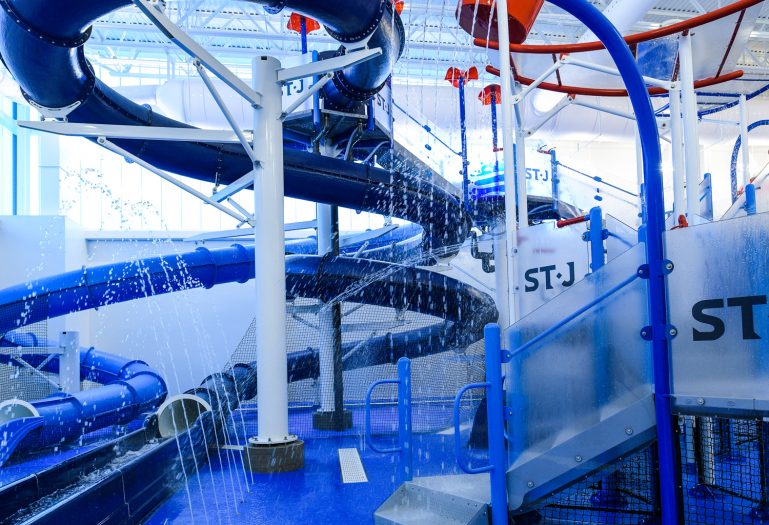 June 29, 2020
Martin Aquatic's Project, The St. James, Featured in Athletic Business Magazine
Athletic Business honored The St. James in its annual Architectural Showcase, highlighting the designs by lead architect HKS and aquatic consultant, Martin Aquatic Design & Engineering for the competition pool complex and kids aquatic play area.
Inside the June issue, Athletic Business magazine compiled its 33rd Annual Architectural Showcase, honoring wellness centers, community centers, and health complexes around the world for their aesthetic and programmatic design. Among the winners was The St. James, the 450,000-square-foot super facility that houses dozens of athletic venues and fields for a multitude of sports.

Alongside field houses, ice rinks, basketball courts, and batting cages, the aquatics complex inside The St. James offers full competitive swimming with 300-seat grandstands. Designed by Martin Aquatic, the 50-meter Olympic-sized competition pool features a movable bulkhead that can divide the pool for multiple programming functions such as short course training or youth swim meets.

The St. James also offers comprehensive activities and amenities for children, including the Martin Aquatic-designed aquatic playground. Located adjacent to the competition pool, the water park area spans 6,000 square feet with multiple levels for climbing and splashing. This aquapark includes three dumping buckets, three closed-loop slides, two toddler slides, and dozens of spray nozzles that rain down water from every angle.

Every member of the family was included in the design of this facility, with children's programming and activities, and a variety of sports, wellness, nutrition, play and retail programs.

Athletic Business releases this list of all finalists before selecting winners of its Facilities of Merit program in the Fall.