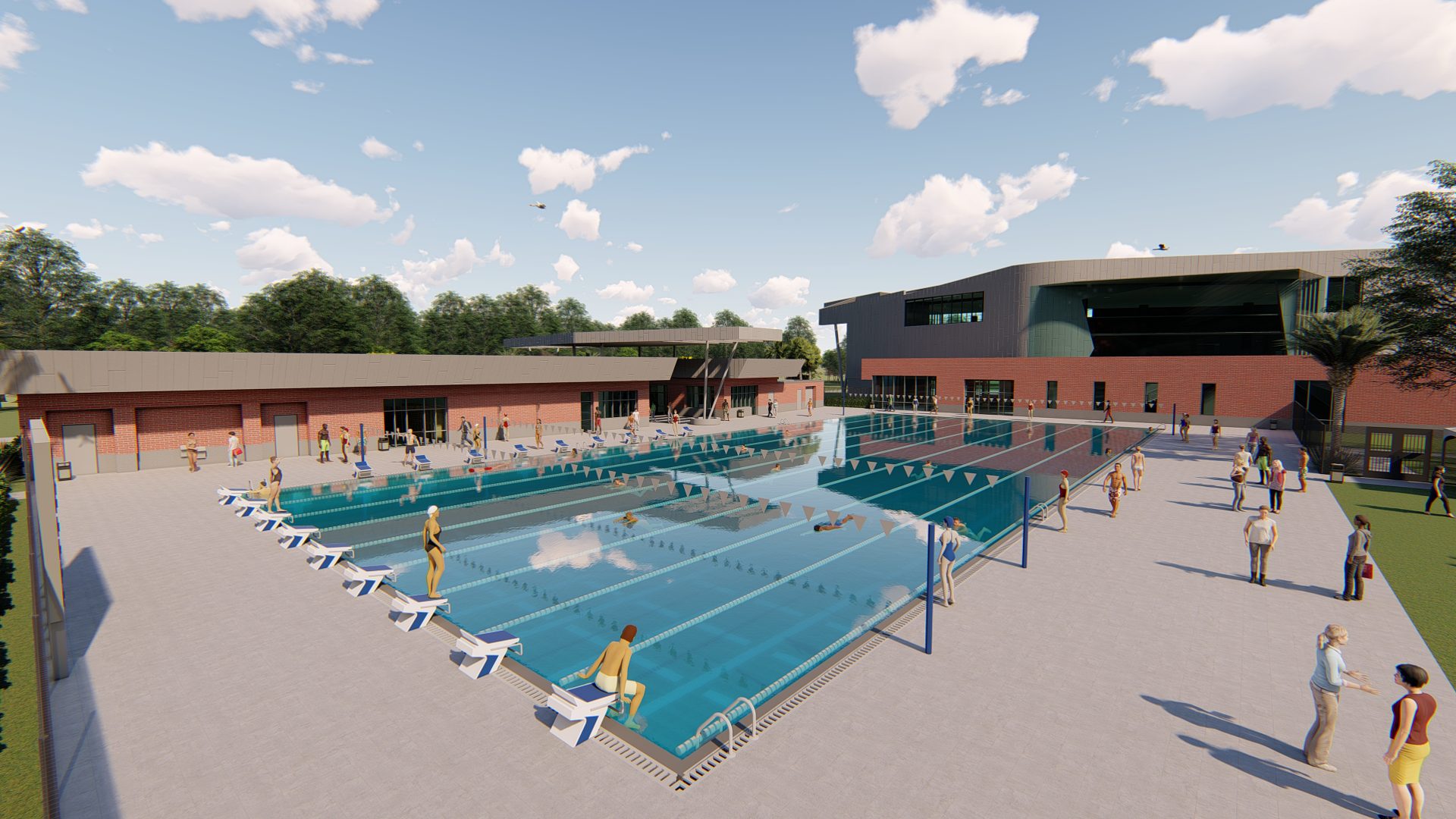 September 15, 2020
UNF Women's Swimming Team Looks Forward to On-Campus Competition Pool
Designed and engineered by Martin Aquatic, the University of North Florida's new on-campus competition pool began construction last month to the excitement of athletes in the school's NCAA Division I Women's Swimming program.
Construction started in August on the new athletic complex on the campus of the University of North Florida (UNF) in Jacksonville, where the facility's centerpiece is a 50-meter competition pool designed by Martin Aquatic Design & Engineering. An article published in the September issue of the Inside UNF newsletter highlighted the excitement from members of the Women's Swimming program to see the realization of a years-long promise from the administration.

Projected to open in June 2021, the new outdoor pool is sized with 9 lanes on the 50-meter side and 20 lanes on the 25-yard direction with starting blocks on both sides. The pool will serve as the primary training and competition venue for the Ospreys swimming team, but it will also be open to all university students through the Recreation and Wellness center. Currently another on-campus pool serves as a leisure amenity for students: a 3,000-square-foot resort-style pool at the Osprey Clubhouse which was also designed and engineered by Martin Aquatic back in 2012.
Since 2013 when the existing competition pool at UNF was closed because of the magnitude of needed repairs, the women's swim team has been forced to practice and compete at a local high school 20 minutes away. As the program has grown and the team has earned new school records, it has only strengthened the anticipation for this new pool.

Leading the project team is Borrelli + Partners, a Florida architecture firm that designed the existing LEED Gold Certified Student Wellness Center. Adjacent to that complex, this new aquatic facility will include three buildings with workspace for lifeguards, changing area, restrooms, pool equipment and pool storage, and space for a swim team locker facility.
To read the article from the University of North Florida, visit unfospreys.com, or visit the Martin Aquatic project page.
Project renders courtesy of Borrelli + Partners