Project Spotlight
Lake George RV Park's Cascade Cove
The 120-acre Lake George RV Park offers outdoor enthusiasts and campers all the amenities of home during their vacation in the Adirondacks. With the newly-opened poolscape dubbed "Cascade Cove," the park's aquatic amenities now rival top resorts with a 3,000- square-foot zero-entry pool, a 40-person hot tub, and a children's climbable wet play structure.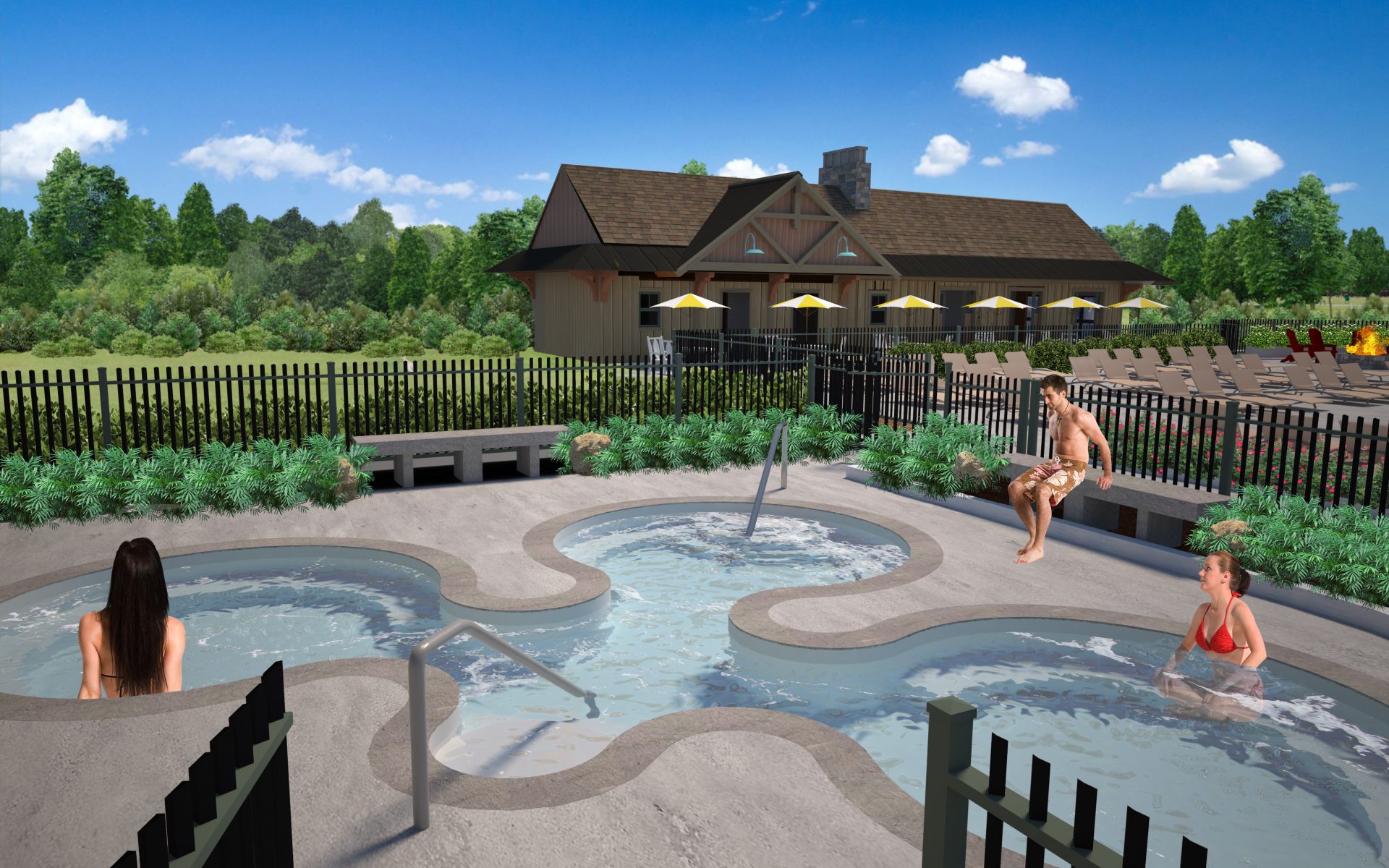 Envisioning a New Outdoor Offering
When the Lake George RV Park approached Martin Aquatic about adding a new pool complex, the project team envisioned a family-friendly attraction that would raise the bar for all campgrounds across the country. Through our pre-design process, we completed a conceptual 3D render showing the dramatic change that a resort-style pool, freeform spa, and children's splash pad would add to their outdoor amenities. Martin Aquatic created a custom theme for the wet play structure and floor of the splash pad that would embody the character of the Adirondack Mountains, using verdant color schemes and natural lily pad patterns to design a vibrant and fun interactive water feature. The clover shape of the spa was a design choice that not only echoed the nature theme, but also served to create a larger perimeter thereby increasing the bathing capacity along the bench seating to create conversation coves in a cost-effective way.
Building Toward Summer
Martin Aquatic's design for Cascade Cove was slated to replace an aging outdoor pool area with limited existing piping. We started fresh, drafting engineering plans that called for two new mechanical rooms with underground vaults to handle the necessary filtration and other feature equipment. While this below-grade layout helps conceal the pumps and other equipment from guests' views, it also proved a challenge during construction. The winters are normally harsh in upstate New York, however this construction period was delayed by a prolonged winter that kept the ground mostly frozen for two more months. In the end, construction crews continued to push ahead, and Lake George RV Park celebrated a summer opening of Cascade Cove to the delight of its campers.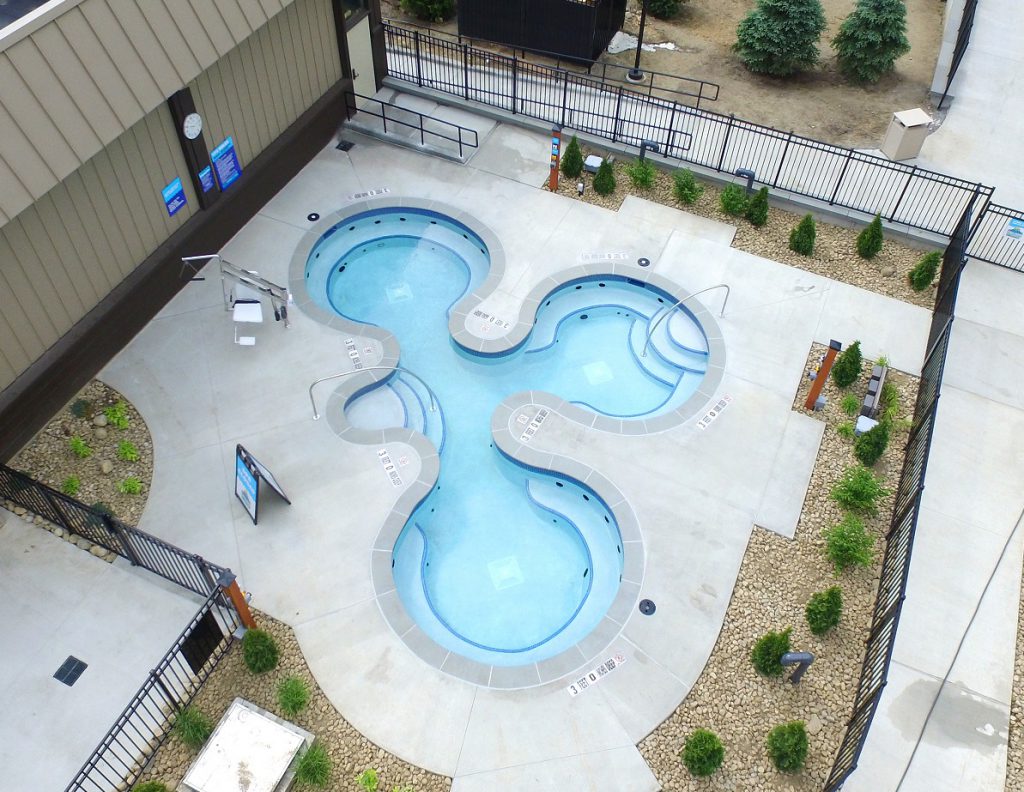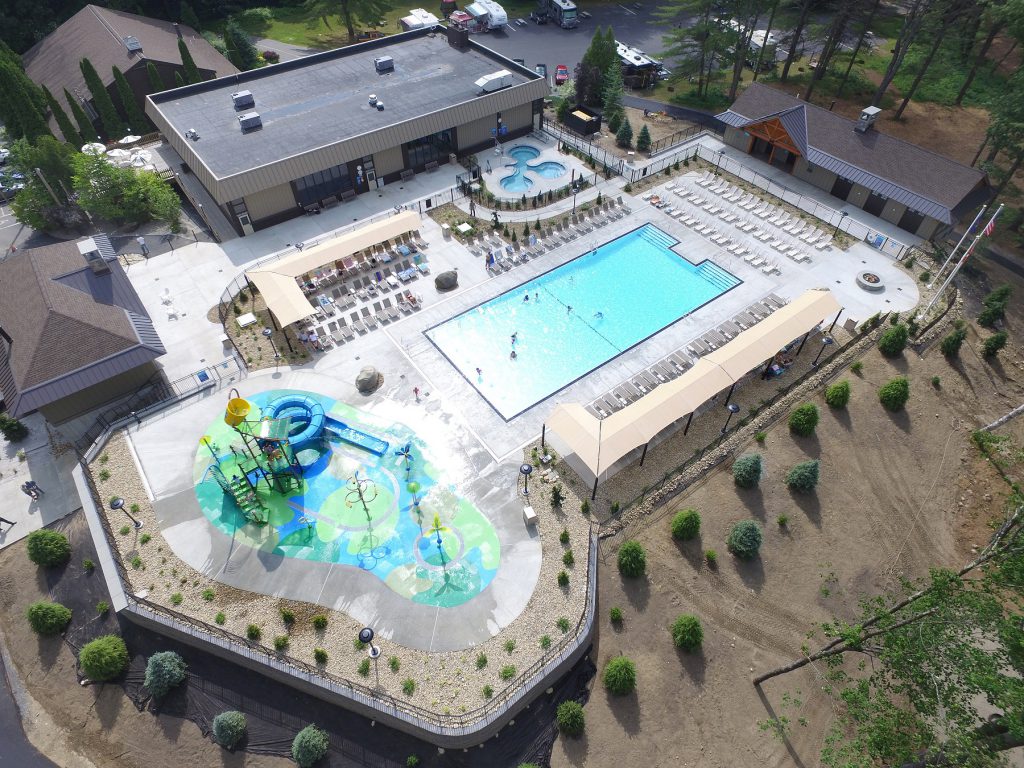 An Aquatic Amenity for All
With the diverse groups of people traveling to the mountain destination of New York's Adirondacks, Lake George RV Park sought an amenity that would appeal to the greatest number of visitors. Cascade Cove is the one poolscape that offers something for everyone. The littlest campers will love splashing among the vertical spray nozzles, getting drenched underneath the huge dump bucket, and riding down the 60-foot-long closed-loop water slide. The zero-entry pool also features an ADA rail making it easier for multi-generational families to enjoy their time in the pool together. Everyone can relax in the large capacity, clover-shaped hot tub with three unique areas for families to soak in the splendor of their vacation in the Adirondacks.