October 25, 2023
Martin Aquatic Honored with WWA Leading Edge Award for Island Waterpark at Showboat Resort
The annual "Leading Edge Award" from the World Waterpark Association recognizes the 100,000-square-foot indoor waterpark for its creativity in design.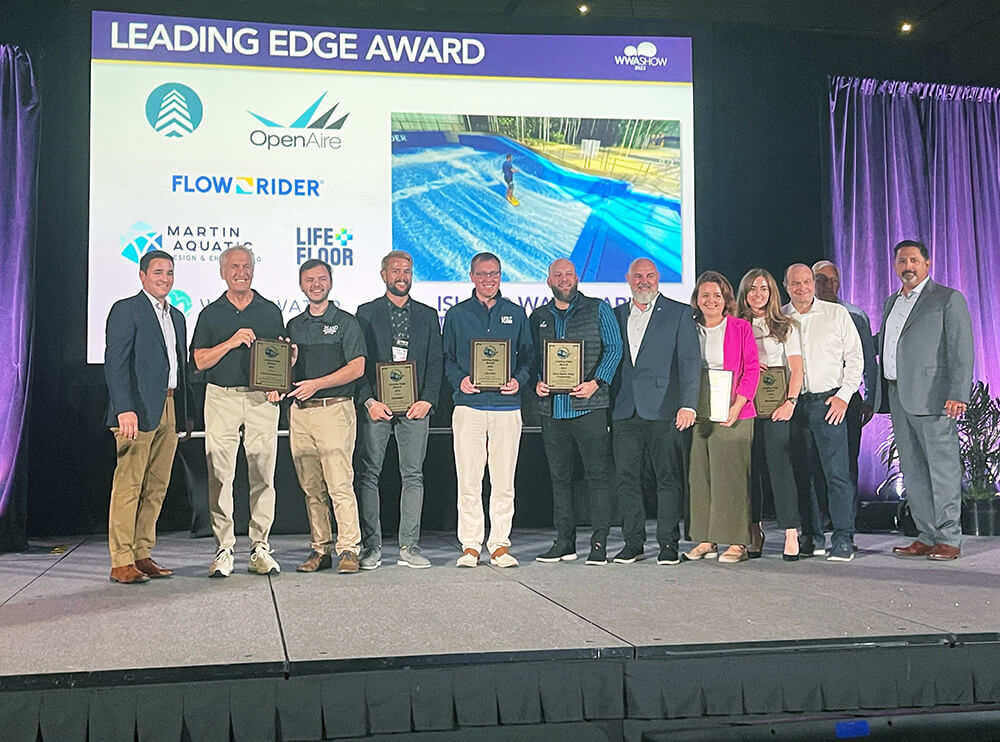 Since it opened in July, the Island Waterpark at Showboat Hotel Atlantic City has been garnering widespread attention as a needed family-friendly attraction on the Jersey Shore boardwalk. Today during the World Waterpark Association's annual Symposium & Trade Show held in New Orleans, the industry group awarded Martin Aquatic with a Leading Edge Award for its work performed on Island Waterpark.

The one-of-a-kind waterpark spans 100,000 square feet of indoor space, enclosed under a retractable glass roof by OpenAire that allows for year-round operation. Throughout the park, waterslide attractions by WhiteWater offer countless thrills, as well as pint-sized splashes for younger kids atop industry-leading safety-surfacing by Life Floor. Not to be outdone by the nearby beach, inside Island Waterpark is a FlowRider Double for aspiring surfers. All of these companies shared the award stage today with Martin Aquatic in recognition of their work on the project, which was developed by Tower Investments.
The original design for Island Waterpark commenced in 2020, when the owner of the Showboat Hotel announced plans to bring back family-friendly entertainment to Atlantic City at his non-gaming property. The general vision was to create a park filled with iconic attractions and "wow" moments while also breaking records with its footprint. At 100,000 square feet of indoor space, Island Waterpark is the largest indoor-outdoor beachfront waterpark in the US. Also, the waterpark celebrates the spirit of Atlantic City, creating a year-round indoor boardwalk with shops and amusements. The addition of waterpark thrills and relaxing areas to socialize further enhances the area, while bringing in multi-generational appeal. The waterpark would bring kid-friendly attractions back to the city and also allow adults a unique amenity that would be different from a casino.

One of the waterpark's main features is "Slide Island," a multi-level structure encircled by a 500-foot lazy river. This structure is the world's first AquaForms 12 by WhiteWater, featuring 12 platforms, 5 slides, 55 play features, a 317-gallon tipping bucket, and 280 feet of paths to explore. Two iconic slide structures offer multi-person family innertube slides, as well as thrilling head-first mat racers for friendly competitive fun. With two additional pools for kids and adults, the waterpark caters to every member of the family.

The presentation of the Leading Edge Awards kicks off the official WWA Show, where Martin Aquatic's team will be exhibiting on the convention floor. The Symposium provides waterpark operators and other attendees with valuable educational offerings, including a panel discussion that concluded earlier about the Inland Surf industry that was moderated by Josh Martin. In addition, Martin returns as a speaker at another session alongside Emily Colombo from WhiteWater and Jeff Sugar from EDSA as they talk about Creating a Waterpark that Wows.
The World Waterpark Association's annual Symposium & Trade Show ends on Friday, October 27.
For more information, visit wwashow.org.