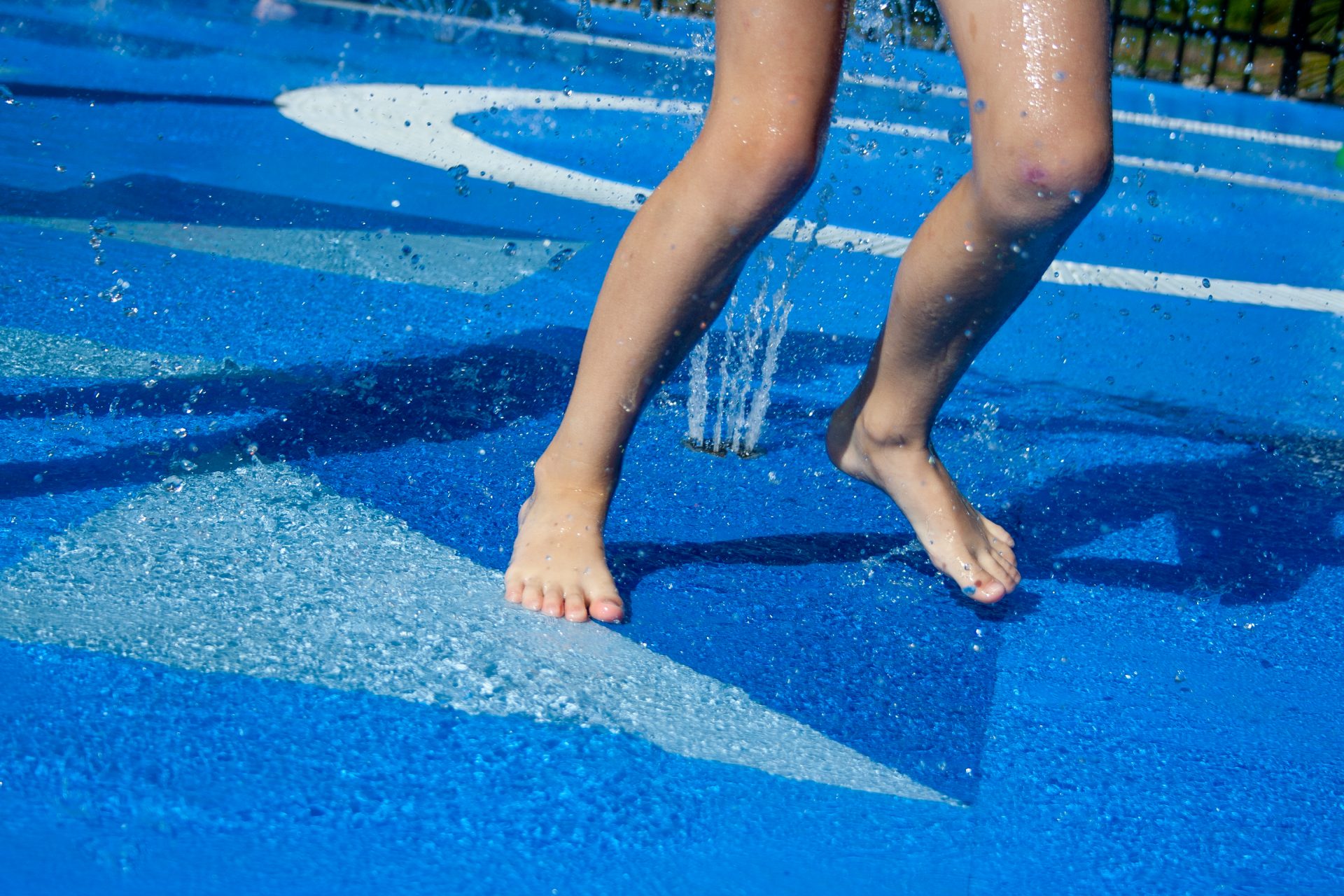 February 12, 2019
Martin Aquatic's Project Windsor Hills Published as Featured Partner Design in Life Floor's "Lookbook 2019"
The water park poolscape that was added to the vacation home community of Windsor Hills in Central Florida made a big splash when it opened in 2018. With its prominent Life Floor tile installation, the project earned a spot in the manufacturer's yearly Lookbook, the company's publication showcasing its designs and product offerings. In this blog post, we hear from Martin Aquatic Design & Engineering (Martin Aquatic) Senior Design Coordinator, Maya Mendelewicz, about how she created the design for the vibrant blue floor of Windsor Hills' newest addition.
Working together with the rest of Studio Splash under Josh [Martin, Martin Aquatic President & Creative Director] and Sam [Milson, Martin Aquatic Design Studio Manager], we first worked on the design for our play structures, slide towers, and spray elements. When we had that laid out, the next thing we did was create a color palette for the project—pulling in complementary colors and choosing patterns that would add a vibrant element to the existing poolscape. After we had that figured out, we began to look at the possibilities for the flooring, working with Life Floor's color options.

We went through four iterations before landing on the final design, working through ideas and playing with different concepts as a design team. We first had the idea for a design that looked like waves from the ocean onto a beach; we laid out a scalloped design that transitioned from dark blue to a sand color. However, that left us with a lot of covered up space because of how the slides and play features were positioned on the ground, so then we decided to create more of an island idea. Now, all of the patterns come from the center of the site and spread outward.
Choosing to use Life Floor's triangle tile pattern was the best way for us to be creative within the client's budget. We normally perform our concept designs with the budget in mind, but that usually happens with slide elements or water features. With Life Floor's differing tile patterns, we used the flooring to guide some of our artistic decisions. Designing a multi-color tile installation not only provides a visually appealing floor, but it also helps to break up the color to hide dirt and regular wear that accrues over time.