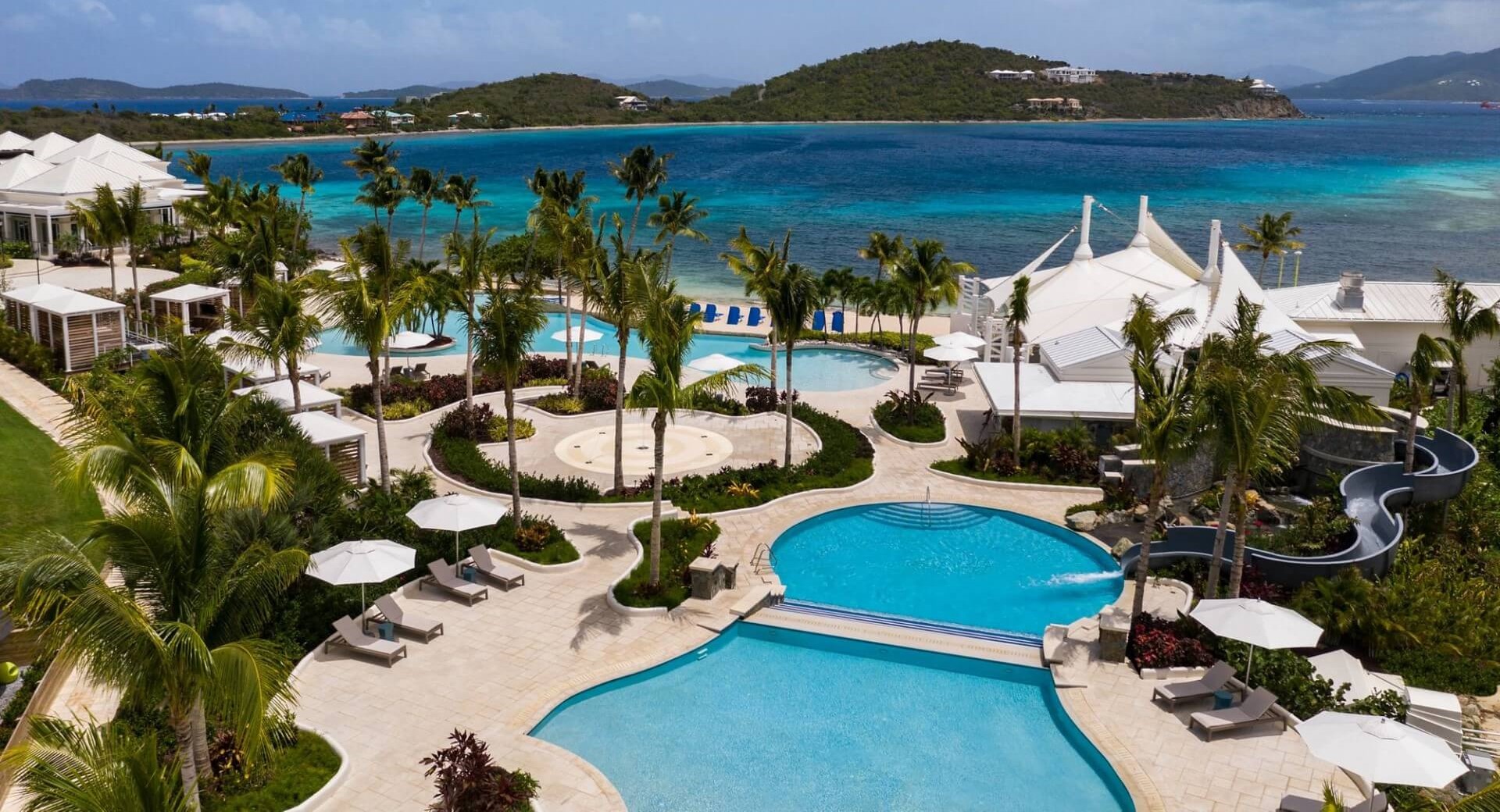 February 25, 2021
Martin Aquatic Opens New Caribbean Pool Decades After Original
The Ritz-Carlton St. Thomas welcomes visitors to its expanded poolscape with a new family friendly amenity adjacent to the iconic infinity-edge pool.
With a location as picturesque as the beachfront Ritz-Carlton St. Thomas, guests can enjoy overlooking the blue waters from one of the best infinity-edge pools in the Caribbean. Back in the mid 80s, Martin Aquatic had the privilege of designing the original pool. Decades later, the resort just recently opened another stunning pool designed by Martin Aquatic that is sure to please even more of its guests.

Featuring a nearly 60-foot-long waterslide, this new family pool is divided into a shallow, zero-entry side that cascades down into a standard-depth swimming area. The pool area also includes a flat-deck interactive water feature for toddlers and young children to enjoy playing in water sprays. The expansion comes after a $100 million renovation led by Perry Becker Design and L2 Studios that helped restore the property following severe hurricane damage. Now visitors will enjoy upgraded pool amenities along with redefined luxury site wide.

For some background on the property in St. Thomas, it had originally opened as a different resort. When The Ritz-Carlton acquired and opened it in the late 80s, there was no pool on its large grounds leading down to the beach. That's when Martin Aquatic was recommended to help create a luxury poolscape that could match the landscape's natural beauty.
Martin Aquatic joined the project team alongside EDSA, helping to solve the elevation challenges between the hilltop hotel lobby and the terrain leading down to the beach where the pool was to be located. With the addition of an in-water landscaped island, the freeform pool took shape and provided one of the best vistas in the Caribbean from its celebrated infinity-edge.

Later, as The Ritz-Carlton made plans to develop the adjacent land into one of its Destination Clubs in 1999, Martin Aquatic was again contracted to design and engineer the secondary pool deck and spas. Additional renovations and expansions a few years later added more pool amenities.
After that project was completed, Ken and his wife Pat had the opportunity to enjoy the pools firsthand while on vacation. While browsing through the gift shop at the resort, Pat saw an artist selling copies of an original painting of the pool. When she told him the story of her husband designing the pool, the artist wrote a special inscription at the bottom that reads, "This print is dedicated to Kenneth Martin. Thank you for making the Ritz-Carlton so unique."
The story of The Ritz-Carlton St. Thomas property is a special one for all of us here at Martin Aquatic, and we have been honored to play a defining role in shaping the aquatic amenities through its many phases of development and expansion.