Project Spotlight
Oasis Lagoon at CocoCay
Perfect Day at CocoCay island by Royal Caribbean International is an ambitious project debuting as the first in a series of private island destinations. Designed as a $250 million transformation of the cruise line's island in The Bahamas, Perfect Day at CocoCay island combines every amenity for travelers looking to thrill and chill on their vacation, from Oasis Lagoon--the largest freshwater pool in the Caribbean, to the tallest waterslide in North America and everything in between.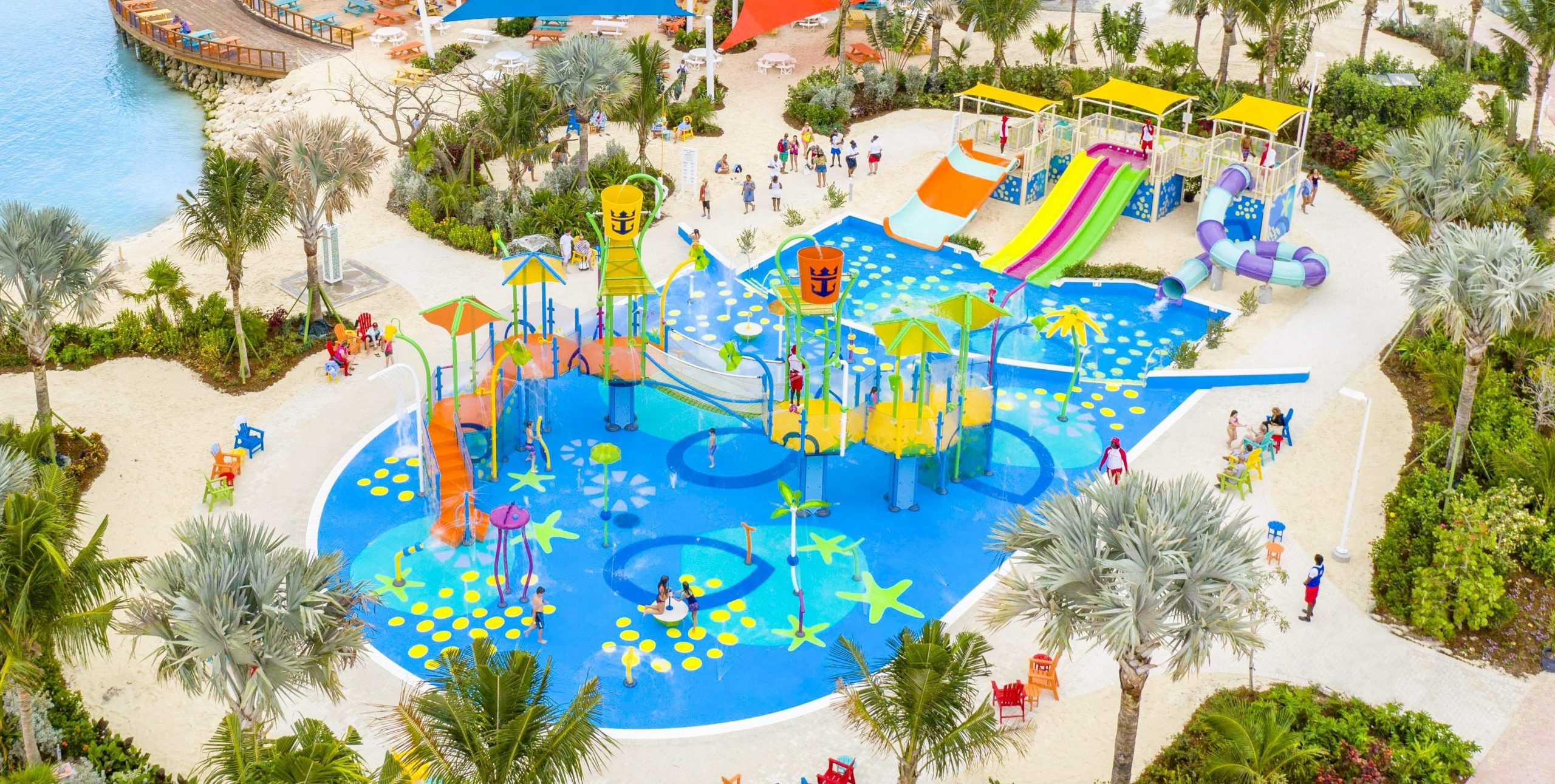 Planning a Port of Call
The Martin Aquatic team joined the project early on in the planning and was tasked with envisioning what aquatic amenities would have the greatest appeal to travelers across multiple generations in helping to create their Perfect Day. This charge became an extensive undertaking, as we assembled designs for every possible way that a guest could enjoy having fun in the sun. Notwithstanding the island's existing pristine beachfront, we drew a site plan that centered on a thrilling water park concept and the relaxing resort-style pool, Oasis Lagoon at CocoCay, which included additional amenities that would cater to all members of the family. We pulled from our years of experience creating interactive water features and structures for young children—as well as the success we've had designing engaging kids water parks aboard other Royal Caribbean ships—to develop the largest such area dubbed "Splashaway Bay." When it came time to develop another aquatic amenity for bigger kids, our team designed the Adventure Pool, incorporating fun elements like a climbing wall, rope swings, and a floating water walk for a one-of-a-kind aquatic obstacle course.
Building Thrills and Chills
Perhaps the greatest engineering challenge of the project came with the design for the slide towers as part of CocoCay's "Thrill Waterpark." Looming high over the horizon, the Adventure Tower's tallest tube slide is called Daredevil's Peak, standing at 135 feet and the tallest waterslide in North America. It shares the tower with six other unique waterslides, all with their own slopes, flow rates, dedicated pumps, and steel support structures. The family tower's six multi-person slides also present unique challenges with a connecting plunge pool and raft conveyor belt system that carries innertubes back to the top of the tower. Constructing on a site comprised of sand and coral presented unique challenges and forced our engineering team to decentralize the technical spaces for a more efficient design. One easy design decision on the overall project, however, was using a stainless steel structural basin for the 33,000-square-foot Oasis Lagoon at CocoCay pool, expediting construction time by six months and allowing this feature to serve guests as soon as possible.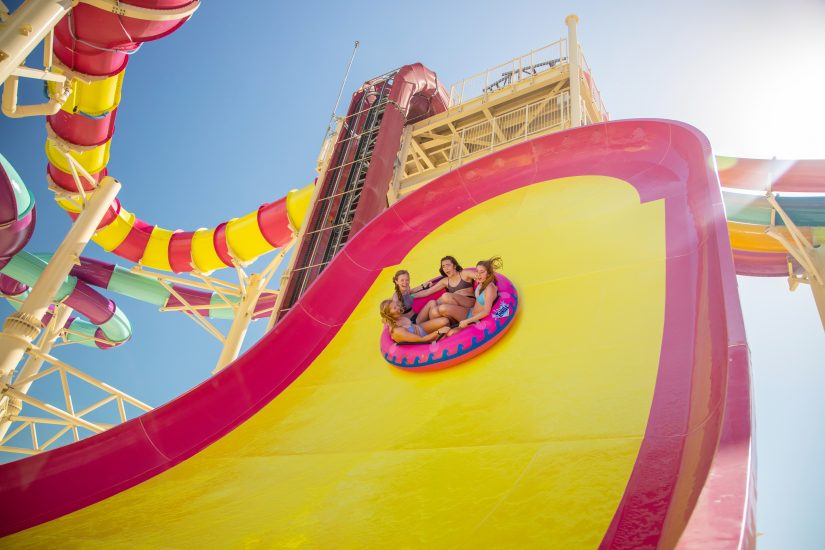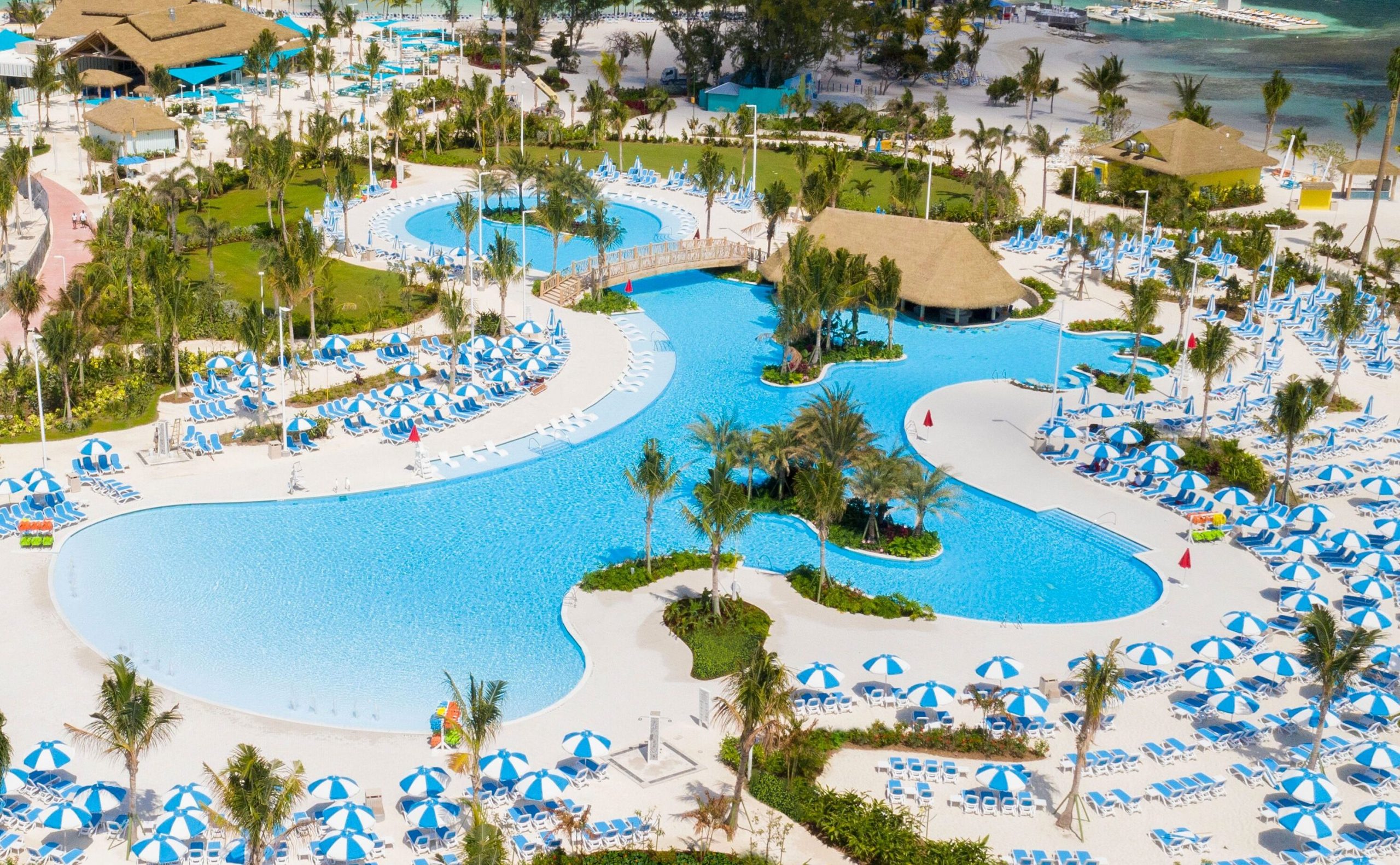 An Unrivaled Destination
Since the island's launch in May 2019, Perfect Day at CocoCay stands alone as an unmatched cruise destination, boasting world-class aquatic amenities that cater to every generation. Whether your ideal vacation is an adventurous trek riding the coolest waterslides, a relaxing sojourn lounging in cabanas by the pool, or a splashing spree bonding with the kids, Royal Caribbean's newest island is designed to give you the Perfect Day.
To book your cruise and enjoy Oasis Lagoon at CocoCay as well as Thrill Waterpark, visit royalcaribbean.com/cococay-cruises.